For the first time since 1994, students are heading back to school...and I'm not one of them!
How glorious is that?
I actually liked school until I got to college (I realize that's pretty much the opposite for most people). Now, I would cry if you told me I had another year of classes and papers and projects. So glad I'm done with all of that. Seriously, SO glad.
However, as I have transitioned from school to the grown-up working world, the concept of "summer" (at least as I've always known it) has gotten lost in the process. Every time someone mentions that summer is almost over, I have this strange "
whoa, I had forgotten that it was summer in the first place!
" moment. Not that I've
completely
forgotten -- it's hard to miss summer when Raleigh set a city record for the most consecutive days over 100 degrees the week that I moved here. (Thanks for that one, Capital City). But summer in my world has always meant ten straight weeks of summer camp...or ten straight weeks of sleeping in ridiculously late and going to the pool all afternoon... and those summers are g-o-n-e! Womp.
Nonetheless, I think I've managed to pack my summer full of summer-y things, all the while earning a legit paycheck :)
---
Beach: I kicked off my first official day of summer (the day after my last exam) in Wilmington with a bunch of people whom I love :) I even attempted surfing for the first time. And I wrote about it
here
.
---
Vacation: My mom, sisters, and I went on a grand "
Beth is moving away and getting married, and we may never get to do this again
" trip to Atlanta at the end of May. We had a blast at the Braves' game, World of Coke, Six Flags, American Girl Store (oh yes, we went there), and even survived hiking Stone Mountain. Anddd... I wrote about it
here
.
---
Graduation: Obviously, the summer kicked off with my own college graduation, which I'm sure I'll write about at some point, even if it is like, four months late. Whoops!
However, I also went to my cousin's 8th grade graduation... look out, high school :)
Anddd... my soon-to-be brothers-in-law (that's a really strange word to pluralize) graduated
from
high school and are off to college!
Zach with Gabe on the left & Ben on the right
---
Camp: I might not have gotten to spend my
entire
summer at Camp Bethel, but you'd better believe that I got away for an evening. Gravel roads and hay bales are good for the soul :)
As are camp friends, of course.
image via Hannah Guisewite
---
Birthdays: lots of summer birthdays in my family! My dad & sister, Zach's dad & sister, lots of cousins...whew!
We celebrated my Grandpa's 75th birthday at the end of June:
...and we just celebrated Zach's birthday weekend before last! I'm engaged to a 23-year-old... crazy :) We ventured out to Durham for birthday dinner at Satisfaction and then went to a Durham Bulls game complete with fireworks... followed by birthday desert at Cheesecake Factory, obviously :)
We even got to meet Tom & Jerry. Let's be honest - birthday dream come true :)
---
4th of July: My first paid holiday, wahoo! Zach and I drove to Winston to spend the evening with my family. We went a
little
over the top with all things patriotic...
Including decorations...
Bald Eagle desserts...
Sparklers...
Captain America t-shirts...
And the yearly appearance of the dollar bin America stunner shades ;)
--
Weddings: Summertime is all about some weddings, am I right? I think I know more people who have gotten married this summer than in my entire life combined.
I had the opportunity to photography my first wedding back in June:
And my cousin (and backyard neighbor) married his gorgeous fiancée this past weekend! Zach and I made our first trip to Campbell University to watch them tie the knot :)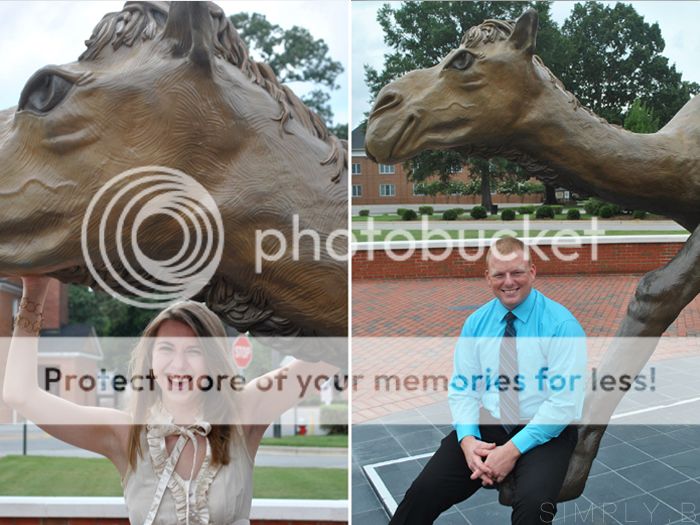 Go Camels!
---
So. Many. Pictures. And so many summer memories, even if I'm not sleeping until noon every day & I've only been to the pool once :)