In no particular order, the myriad of wedding-related tasks we've accomplished over the past month:
• Engagement Pictures: I mentioned in the
last "Wedding Wednesday" post
that Zach and I had our engagement pictures taken... and now we have all the photos! I've included a few below that aren't posted on the photographer's blog, but if you wanna see many, many more, you should definitely
click over & check 'em out
!
We're so thrilled with all of them.
Amanda Castle Photography
is beyond fabulous, so Winston-Salem (& surrounding areas), snag her up while you still can!
• Final Dress Fitting: My dress almost fit perfectly as it was, but we still took it in slightly, just to be on the safe side :) I have also opted to not wear five-inch wedges on my wedding day, so we had it hemmed as well. (I'm tall, but I'm not
that
tall.) My dad was able to see me in my dress for the first time at the final fitting, which is good, since apparently my dress has to live at the bridal salon until a week before I need it. Um, what? I wanted to bring it home & casually wear it around my apartment...
• Wedding Website: Not gonna lie, this was the first thing I started working on after I got engaged in May... way before we had a venue, a bridal party, or even a date. What can I say? I love designing :) Anyway, I finally sat down & finished the thing last week, so you can get your full dose of wedding stalking at
www.haynes-jones.com
.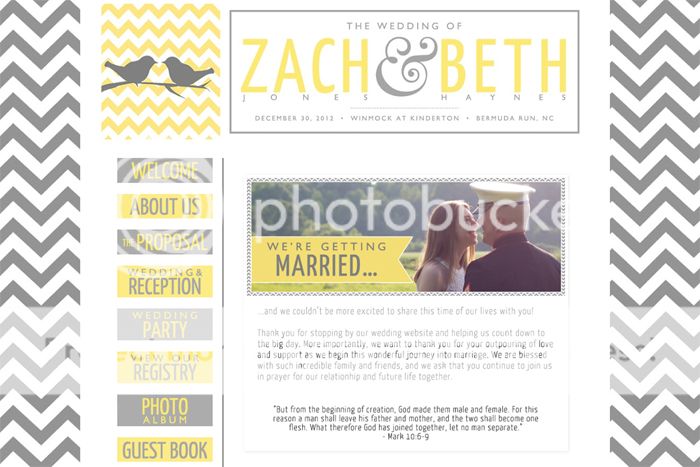 • Save the Dates: After
designing my own graduation announcements
back in the spring, my mom said I had a lot to live up to with my save the dates. No pressure or anything. Based on the feedback I received last week after I mailed them out, they apparently measured up :)
But I'll let you be the judge of that:
• Groomsmen Tuxes: check! I'm so glad this is a painless process. Zach has zero experience in the tux renting department, and I have very minimal (I accompanied one of my prom dates to get a tux in order to make sure that his vest matched my dress), so we weren't exactly sure what to expect. However, the guy that we worked with told Zach and I that the groomsmen just have to show up with a pair of underwear & everything else is provided: shirt, pants, vest, tie, coat, socks, shoes, cufflinks, and a variety of other accessories. God bless America.
• Wedding Bands: check! I mean, my wedding ring is lovely... but y'all, let's get real for a minute: Zacharie Jones was a five year old on Christmas morning after he picked out his wedding band. I have never seen anything so precious in my entire life. Apparently, he finds it rather unfair that he doesn't have anything to show the entire world that he's engaged (ie: an engagement ring), and he really
wants
the entire world to know that he's engaged. He has found some way to mention his wedding ring in every conversation we've had since we picked them out. He is also incredibly bummed that he can't wear the ring until the wedding.
• • • • •
We're becoming quite the pros at this wedding planning stuff. Today is officially the "halfway through our engagement" day, & I think we're definitely more than halfway through with getting this show on the road! :)